Events
THE LATEST AT NMK…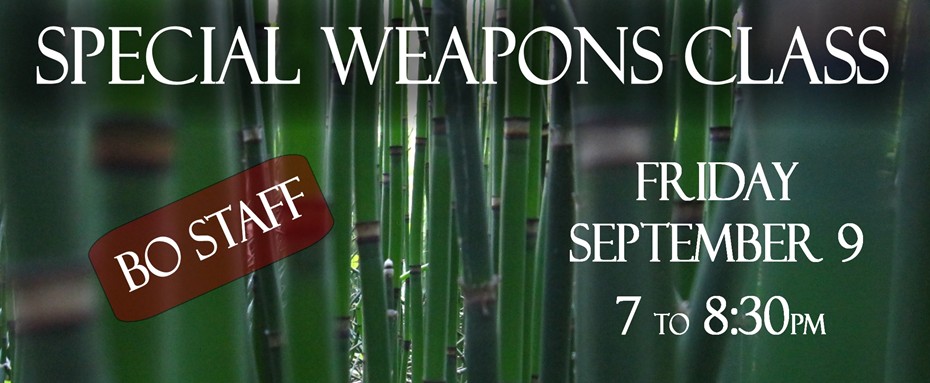 Come train with one of the most simple yet powerful blunt weapons!  Learn the fundamentals of movement, strikes, blocks, and build a strong foundation for this ancient martial art weapon!
---

Join us for this epic event!

September 24th and 25th we will descend on Santa Cruz in full Uniform and with a mighty roar, defy the sea once again! This event is always memorable and with such a wonderful martial arts family we have at our Dojo, it is always an adventure! Between you and me, the sandcastles and Marianne's Ice Cream are big motivators!
You have options to stay overnight
1. At a hotel (book your own reservations)
2. At a VBRO/Airbnb (book your own reservations)
3. Camping with us for $15 per family a few short minutes from Santa Cruz (Bring your own everything-it is rustic!)
More details in the form of a flyer will be distributed soon.
Please Contact Us for more information!
---

Sign up now! Contact us to get on our list! Class seating limited!

This course is for anyone planning to get a NEW CCW License with the El Dorado County Sheriffs Department. This class is a great change of pace from your standard CCW class with our emphasis on your CONTINUED training and stretching of your skill at arms. Gain confidence and the added edge you need to be safe out there!
Please Contact Us for more information!
---

Next class is now forming… contact us to reserve your spot!
This course is for anyone planning to RENEW their CCW License with the El Dorado County Sheriffs Department. This class will be taught with the same level of approachable professionalism you have come to expect from New Man's Karate. This is an engaging class that will teach you the required attitude, defensive mindset and elements of the law required by El Dorado County and the state of California.  The range portion of this class will build your confidence in your defensive firearm handling significantly – Guaranteed!
Please Contact Us for more information!
---

Wednesday, September 28th 7-3pm
Become comfortable and capable of handling your handgun (or your spouse's)!  This is one of the best classes ever devised to take someone with little or NO EXPERIENCE and bring them up to the point of confidently AND SAFELY handling a pistol with ease and peace of mind. This class is a must for anyone with a firearm in the home who needs to be trained in the proper handling and basic use of that pistol.
Read more here! Reserve your spot today!
---
NRA Personal Protection Inside the Home Class

Next Class to be arranged… Contact us for possible dates! Learn how to protect yourself inside your home with your handgun! This one day class includes 4 hours of classroom time and 4 hours of range time training techniques and tactics that will give you solutions for a life-threatening home invasion or unwelcome violent guest. This class is open to anyone who has taken the NRA Basic Pistol Shooting Class, or anyone who has an equivalent basic skill at arms.  Contact Us to reserve your spot for this class, or Click Here for other firearm class offerings.
---
New Cool Class!

We are now offering classes in Cool, California on Mondays and Fridays from 12-1pm for new White Belt Students at a reduced rate of $55 per month! Home School funding also available through Horizon, Visions, ARCS, and more! Please help us get the word out to folks in Auburn, Georgetown, Greenwood, Pilot Hill, and other areas! We have a good group of kids and adults in this class in the heart of Cool!  Contact us for more information!