Classes
We have something for everyone here!
Introductory Class

This is a FREE class for every new student. Read more here!
Family Martial Arts Class

Ages range from about 6 years old to "seniors", we fill every age range in our classes with the whole family! Read more about the style of Martial Art we teach by clicking here!
Tiny Tots

Our Tiny Tots Class is a high energy, fast paced, learning experience for your 3.5 to 6year-old! FIRST  we will have your child come to an orientation to be sure they are ready for the Tiny Tots class, then they may try out the class with the other Tiny Tots to be sure it is a good fit!
Hand To Hand Combat

We love to teach Self Defense to adults in our Hand to Hand Combat Class! It is a rewarding experience to spend time training skills that can keep you and your loved ones safe. With monthly rates at as low as $70, your safety has never been such a good deal! New classes form every February, June and October – Reserve and secure your spot today! Read more here!
Women's Self Defense Seminar

Learn real -world self defense techniques that is the ABSOLUTE ESSENTIAL survival course for the foundation to your self defense strategy . The "hands on" training in our 16 hour class (8 lessons)  will teach you various defenses against different types of attacks, grabs, holds, controls, strikes from unarmed and armed attackers. You will develop rapid combinations and tap into your source of power for striking and moving effectively to STOP THE THREAT! Adult only, this is a serious class without any nonsensical garbage that is touted as "self defense". More information here.
Demo Team

The New Man's Karate Demo team is known for it's fun, fast-paced demos that captivate audiences with action packed routines that  are motivating and encouraging to see. See here for more information.
Firearms Training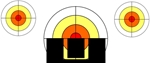 We offer NRA Certified courses that are well thought out and the pinnacle of safe gun handling practices. We also offer non-NRA CCW Classes and other Skill Building firearm training – for more information on these fine programs click here!