Tiny Tots Class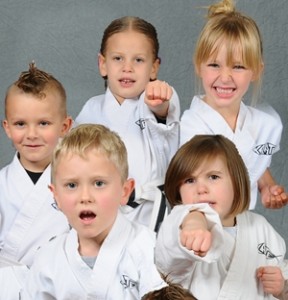 For the youngest of your crew, New Man's Karate offers a special Tiny Tot Class for students from 3.5 to 6 years old! Even the tiniest of the bunch can benefit from training in discipline, focus, and obedience while challenging their energy level (and sometimes ours!).
The Tiny Tot's curriculum is primarily eye hand coordination oriented and the techniques broken down and designed specifically for their age group. During this 45-minute, twice-per-week fast-paced class, we begin with a warm up eye-hand coordination drill or activity, proceed onto a short stretch time, and then move into a simplified but effective curriculum that includes basic blocks, punches, kicks, forms, and other Martial Arts movements that are attention retaining and fun.
 We use a variety of interactive games, exercises, and activities throughout the class. We also incorporate obstacles, targets, kick pads, and many other objects to challenge each student toward the goal of their next Tiny Tot rank. These are levels that are divided into attainable goals so your child can learn that they can achieve through hard work!
When you watch your child succeed, it is empowering for them AND for you. Also, your child will earn each belt rank through a demonstration of actual skills acquired; we don't give away rank! You will see your child grow exponentially in confidence through their successful completion of each goal.
At New Man's Karate, we stick by each student to give the Tiny Tot the best possible training. You are at the right place if you would like to see your child develop listening skills, confidence, and respect early in life!
It starts with a FREE orientation Introductory Class, then your child may participate in the actual class for FREE to make sure we  have a good fit! Please call ahead to schedule an appointment and see for yourself what all the commotion is about!