Martial Arts excellence since 1994!
New Man's Karate is here to serve you with one of the most innovative and practical martial art systems that is around today. Whether you aspire to develop a strong self defense plan, or would simply like to be involved in a fun fitness regimen, we can help!

Congratulations!
We have many students who are training hard all around us...take note! We wish to congratulate those students who have recently excelled greatly, tested, and earned their next belt!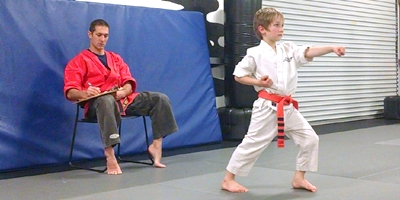 William Advanced Orange
What an excellent show of power and determination on his test!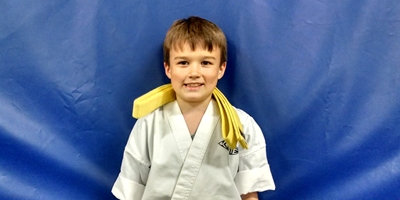 Jude made Yellow!
He saw, he tested, he conquered!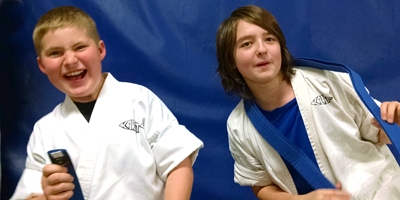 Ben & Camden
These two were especially focused and intense while testing on their Blue Belt and the results are clear!
Class Options
We have something for everyone here at New Man's Karate from 3.5 years old, and our oldest now 76 years young! Self Defense, fitness and a great sense of community are a few benefits of your membership here. See more class descriptions on the menu bar under CLASSES.

Hand To Hand Combat
Adult only Self Defense Class 16 weeks/ 32 classes with the goal of giving you the tangible skills of; 1. being able to hit the heavy bag HARD in RAPID COMBINATIONS with ACCURACY, and 2. Be able to defend against a number of different attacks such as grabs, chokes, controls, strikes, etc. This class is intense and ramps up quickly, so put the next start date on the Calendar now!

Tiny Tots
Our smallest students have the biggest heart! For the best deal in town (as low as $45 per month) for twice a week, 45 minute non-stop action class! For ages 3.5 to 6 years old, boys and girls learn to develop listening skills and discipline through their martial arts training!

Family Martial Arts
We are not afraid to have adults train along side children - it fosters a great family atmosphere that says we are in this TOGETHER! With unbeatable monthly family rates that are HALF of what our competition down the road charges!